HUNTING GROUNDS
JSC "Postavy Flax Mill" rents 21 thousand ha of hunting area, situated in the south-eastern part of Postavy region. The population is provided with paid services, like the sale of single licenses, hunting passes. The farm rents lake "Borovoe" with the area of 49 ha, situated 28 km from Postavy in a picturesque place. Commercial and paid amateur fishing take place at the lake.

POSTAVY REGION, south-west of Vitebsk district. It was registered 15.01.1940. The area is 2,2 thousand km².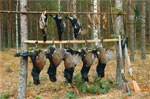 The population is 43,1 thousand people (2006). The center is Postavy. Lyntupy and Voropaevo are included into the region. The landscape in the north of the region is flat within the Disna lowland, the southern part is ridge-hilly, situated on Sventsyan ridges. Most common elevation above sea level is 130-170 m, the highest point is 228m. An average temperature in January is -6,7ºC, in July – 17 ºC. The rainfall is 740 mm annually. Vegetation period is 185 days. The rivers are included into the Zapadnaya Dvina basin: the Disna with feeders the Myadelka and the Golbitsa. The largest lakes are: the Velikie Shvakshty, the Luchai, the Malye Shvakshty, the Lodosi, the Bolshie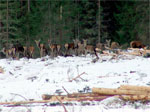 Survilishki, the Svito. Forests (occupy 38% of the territory) are primarily situated in the south-eastern part of the region (pine, spruce, birch, aspen). Marshlands occupy about 5% of the area. A part of the Narochany national park, the hydrological preserve with the republican level of significance Shvakshty, Postavy forest-and-hunting area, a hunting farm BOOR, commercial hunting farms "Borovoe" and "Ozero" are situated in the region.