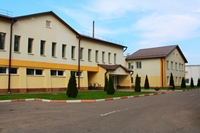 The building of a textile mill began in 1938 under Polish government. The Germans brought here a flax processing machine during the war, which led to the creation of a flax mill.
The flax mill began to work in 1947 and produced only fiber. While processing rotted straw, there was a lot of waste – boon. The workshop of fuel plates made of flax boon was opened in 1964, producing 2000 m³ of fuel plates made of flax boon per year. A rapid decline of area under flax took place in the beginning of the 1990s. There was a shortage of raw materials. In 2000 the utilization ratio of production area amounted to 27,5%. The appointment of a new director Skurko Petr Ivanovich in 1997 was marked by the beginning of a gradual overcoming of the crisis. In 1998 for the purpose of not decreasing the production volume in monetary value some new supplementary workshops were opened: a sewing workshop – for the production of working clothes; workshops for the production of rope and cable yarn. The production of non-woven material (sheet wadding) and linseed oil began in 2003, the production of fuel briquettes made of flax boon – in 2009.
In 2000 after the cutting of the area under flax in order to provide the mill with raw materials there was organized a mechanized brigade that grows flax on lease land and helps farms, which sow flax.
For the period from 2000 till 2010 the area under flax, cultivated by the mill has increased from 140 ha up to 950 ha, which amounts to more than 70% of the area under flax, cultivated in the region.
At the present time the mill produces the following kinds of products: scunched flax fibre; short flax fibre; ropes; combed tape made of short fiber; stitched and needle-punched fabric; fuel briquettes made of flax boon.
Due to a well-developed strategy and good management the enterprise is constantly developing, implementing new kinds of work, carrying out re-equipment, and extending sales area.
Skurko Petr Ivanovich has been the director of the mill since 1997.